Warranty Information
Sip-Line Warranty Information
LIMITED PRODUCT WARRANTY INFORMATION ANDLIMITATION OF LIABILITY
SIP-LINE 90 DAY LIMITED WARRANTY
Elevated Intuition, LLC. doing business as Sip-Line ("We" or "Us") extends the following ninety (90) day limited warranty ("Limited Warranty") to the original purchaser ("You" or "Your") of a Sip-Line (the "Product"). [This Limited Warranty is applicable only to a Product sold and used within the United States.] Unless restrictions on assignment are prohibited by applicable law, You may not assign or transfer this Limited Warranty. 
WHAT DOES THIS LIMITED WARRANTY COVER? Subject to the exclusions and limitations set forth in this Limited Warranty, We warrant to You that each Product will be free from defects in material and workmanship, under normal use, for a period of ninety (90) days from the date of Your purchase of the Product. This warranty gives You specific legal rights, and You may have other rights which vary from State to State. 
WHAT THIS LIMITED WARRANTY DOES NOT COVER (EXCLUSIONS): This Limited Warranty does not cover or apply to any Product: (a) exhibiting normal wear and tear; (b) used for any purpose for which it is not designed or intended; (c) which has been subjected to misuse, abuse, neglect or unauthorized modifications; (d) which has been subjected to harsh, corrosive or abrasive chemicals or materials; and/or (e) damaged by fire, flood, accident, acts of God or other external causes beyond our control. Further, this Limited Warranty does not apply to any claim, loss, damage or injury arising from failure to follow instructions in our Quick Start Guide, which accompanied Your Product or which can be found online at www.sip-line.com.
YOUR SOLE AND EXCLUSIVE REMEDY UNDER THIS LIMITED WARRANTY: If the Product does not conform with the Limited Warranty provided by Us above, We will, at our option, provide you with one of the following exclusive remedies: repair or replacement of the defective Product; provided, if it is not commercially feasible to repair or replace a defective Product, We may refund the original price paid by You for the defective Product. THIS PARAGRAPH STATES YOUR SOLE AND EXCLUSIVE REMEDIES FOR ANY PRODUCT DEFECT COVERED BY THIS LIMITED WARRANTY.
DISCLAIMER OF OTHER WARRANTIES: THIS LIMITED WARRANTY CONTAINS OUR SOLE AND EXCLUSIVE REPRESENTATIONS AND WARRANTIES WITH RESPECT TO THE PRODUCT. ALL IMPLIED WARRANTIES ARE STRICTLY LIMITED TO THE DURATION OF THE LIMITED WARRANTY APPLICABLE TO THE PRODUCT AS STATED ABOVE, INCLUDING BUT NOT LIMITED TO, ANY WARRANTY OF MERCHANTABILITY OR FITNESS FOR A PARTICULAR PURPOSE. Some States do not allow limitations on how long an implied warranty lasts, so the above limitation may not apply to You.
LIMITATION OF LIABILITY: OUR TOTAL LIABILITY UNDER THIS LIMITED WARRANTY SHALL UNDER NO CIRCUMSTANCES EXCEED THE ACTUAL AMOUNT PAID BY YOU FOR THE DEFECTIVE PRODUCT. FURTHER, WE SHALL NOT UNDER ANY CIRCUMSTANCES BE LIABLE TO YOU OR ANY THIRD PARTY FOR ANY CONSEQUENTIAL, INDIRECT, INCIDENTAL, SPECIAL, ENHANCED, EXEMPLARY, OR PUNITIVE DAMAGES OR LOSSES (INCLUDING LOST PROFITS OR OTHER ECONOMIC LOSSES OR DAMAGES), EVEN IF THIS LIMITED WARRANTY IS DEEMED TO HAVE FAILED OF ITS ESSENTIAL PURPOSE. Some States do not allow the exclusion or limitation of incidental or consequential damages, so the above limitation or exclusion may not apply to You.
HOW DO YOU OBTAIN WARRANTY SERVICE? This Limited Warranty can also be found online at www.sip-line.com or in the documentation that accompanied Your Product. To obtain more information regarding the Product or to make a claim under this Limited Warranty, contact Us using the information provided below. A dated sales receipt as proof of purchase may be required to obtain benefits under this Limited Warranty.
Sip-Line Warranty Department
1140 Us Hwy 287 #400 #137
Broomfield, CO  80020
Dispute Resolution; Arbitration; Class Action Waiver
PLEASE READ THIS SECTION CAREFULLY BECAUSE IT AFFECTS YOUR LEGAL RIGHTS. IT REQUIRES YOU TO RESOLVE ALL DISPUTES THROUGH BINDING INDIVIDUAL ARBITRATION AND LIMITS THE MANNER IN WHICH YOU CAN SEEK RELIEF.
Arbitration Agreement
You agree that all claims and disputes relating in any way to Your use of the Sip-Line product, or arising out of or in connection with this Quick Start Guide, shall be resolved by binding arbitration on an individual basis, except for any dispute in which either party seeks equitable relief for the alleged unlawful use of copyrights, trademarks, trade names, logos, trade secrets, or patents, or any dispute already pending at the time You first agree to these Terms of Service. You also agree that any arbitration will take place in Broomfield, CO.
Waiver of Judge and Jury Trial
YOU WAIVE ANY CONSTITUTIONAL OR STATUTORY RIGHT TO GO TO COURT AND HAVE A TRIAL IN FRONT OF A JUDGE OR A JURY. Instead, You are electing to have claims and disputes resolved by arbitration. Arbitration is the referral of a claim or dispute to one or more persons charged with reviewing the claim or dispute and making a final binding determination to resolve it instead of having it decided by a judge or jury in court. Arbitration procedures are typically more limited, more efficient, and less costly than rules applicable in court and are subject to very limited review by a court. The arbitrator's award shall be final and binding on the parties. It may be entered as a judgment in any court of competent jurisdiction.
No Class Arbitrations, Class Actions, or Representative Actions
YOU AGREE THAT ALL CLAIMS AND DISPUTES WITHIN THE SCOPE OF THIS ARBITRATION AGREEMENT MUST BE ARBITRATED OR LITIGATED ON AN INDIVIDUAL BASIS AND NOT ON A CLASS BASIS. CLAIMS AND DISPUTES OF MORE THAN ONE CUSTOMER CANNOT BE COMBINED WITH ANOTHER AND BROUGHT AS A CLASS, MASS, OR OTHER TYPE OF REPRESENTATIVE ACTION, WHETHER WITHIN OR OUTSIDE OF ARBITRATION, OR ON BEHALF OF ANY INDIVIDUAL OR OTHER GROUP. UNLESS BOTH YOU AND ELEVATED INTUITION, LLC AGREE OTHERWISE, THE ARBITRATOR MAY NOT CONSOLIDATE OR JOIN MORE THAN ONE CUSTOMER'S OR PARTY'S CLAIMS AND MAY NOT OTHERWISE PRESIDE OVER ANY FORM OF A CONSOLIDATED, MASS, REPRESENTATIVE, OR CLASS PROCEEDING. ALSO, THE ARBITRATOR MAY, IN HIS DISCRETION, AWARD RELIEF (INCLUDING MONETARY, INJUNCTIVE, DECLARATORY RELIEF, AND ATTORNEYS FEES AND COSTS) TO THE PREVAILING PARTY IN THE ARBITRATION. ANY RELIEF AWARDED WILL NOT BE CONSIDERED PRECEDENT FOR CLAIMS BROUGHT BY OTHER SIP-LINE USERS.
Arbitration Rules
The Federal Arbitration Act governs the interpretation and enforcement of this dispute resolution provision. Any arbitration will be initiated pursuant to the rules of the American Arbitration Association ("AAA") and will be governed by the AAA Consumer Arbitration Rules. These Rules and filing forms are available at www.adr.org.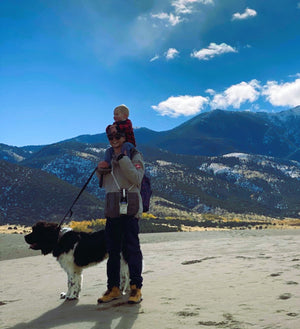 When your hands are full
Lock and load your favorite 12/16oz canned or bottled beverage in your Sip-Line®. Tuck it back or leave it at your side, and like magic, your hands are free!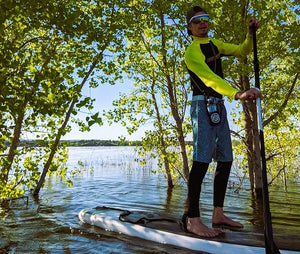 When you're on the move
Worn like a sling, your Sip-Line® will move along its patented pulley to keep your beverage upright as you move. Does not work with cartwheels, we've tried.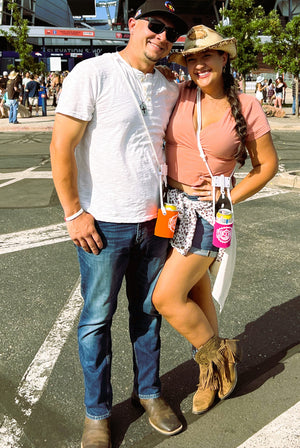 When you're having fun
Can't remember where you put your drink? Never misplace your drink again. Sip-Line® sits right at your side.
When your beverage needs protection
Simply tuck your bottle opener into your can cooler, and your beverage is protected from errant debris.